HSD S+ performance - Shake Polish - 500WH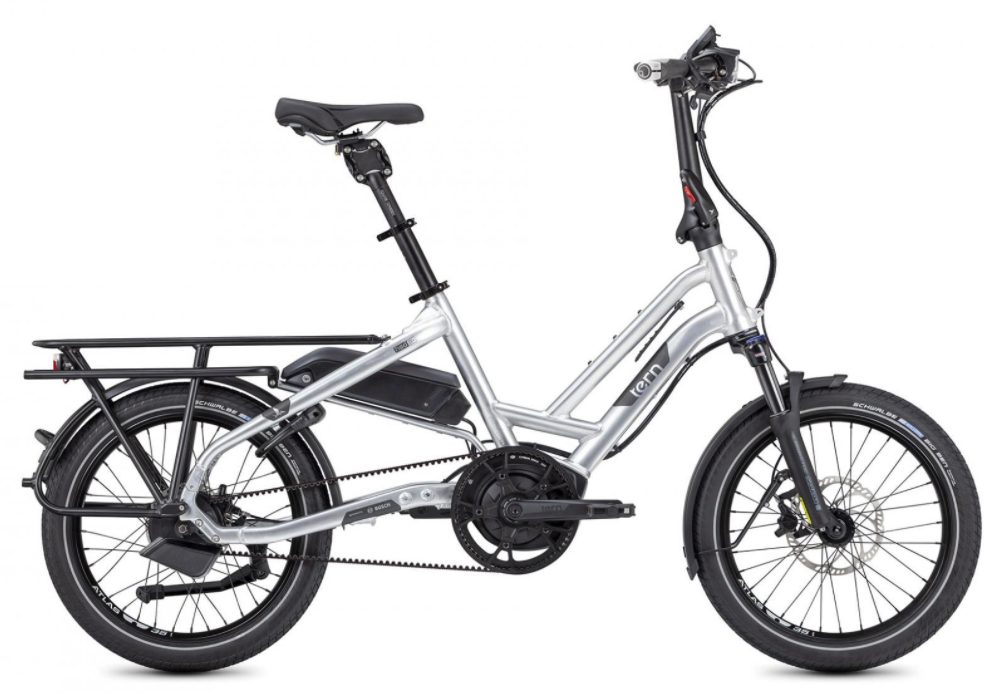 Tern
HSD S+ performance - Shake Polish - 500WH
$8,495
This item is 'click & collect' only
This item is only available for click & collect. After your online purchase, give us a ring and we can organise a time to pick up your brand new E-Bike after we've assembled it in store.
The Tern HSD S+ E-Bike is enormously useful and surprisingly smaller.
It's easy to handle, easy to share, extremely comfortable to ride, carries a whole lot of cargo—and all of this in a compact design that's shorter than a standard bicycle.
Whether you're riding, storing, or moving it around, the HSD is a breeze to handle. It's shorter than a regular bike and its weight is the same as a regular E-Bike.
Kiddie Carry
Bring the kiddo. The HSD's extra-long Atlas H Rack™ gives plenty of heel clearance and room for your kiddo to enjoy the view rather than being smushed up against your back. The rack is rated to 60 kg (132 lb), so when paired with the right Passenger System accessories, the HSD is ready for your growing family. Need to carry a kid? Here's how you can safely carry passengers on the HSD.
Flat fold
Fifteen seconds and the HSD transforms into a flat package that's perfect for fitting into SUVs, station wagons, or bus storage compartments.
Ready to haul
Despite its diminutive stature, the HSD is a mid-sized cargo bike with some serious hauling capacity. With a maximum gross vehicle weight of 170 kg (374 lb) and an XL-sized Atlas H Rack™, it'll carry a week's worth of groceries or camping equipment for the weekend. It even has a dedicated trailer mount, so adding extra cargo is a cinch.
Vertical parking
The HSD flips up for convenient vertical parking. Take it upstairs in an elevator and park it inside at home or at work—it needs just a wee bit of floor space.
A Comfier Ride
With a longer wheelbase and extra-low centre of gravity, the HSDis smoother and more stable than your standard E-Bike. Easy-Step frame design paired with an adjustable stem and seatpost offers a comfortable upright riding position for both taller and shorter riders. Add a suspension fork and balloon tires and even the meanest cobblestone roads are comfortably navigated.
Happiness Shared Daily
The best things in life are meant to be shared, and the HSD is one of them. The HSD resizes in seconds to fit riders from 150 to 195 cm (4'11" to 6'5") so everybody in the family—from teens to grandparents—can enjoy the ride. The Easy-Step frame design is nice and low for easy mounts and dismounts.
Automatic Shifting
The new Enviolo AUTOMATiQ system does all of the shifting for you, so you can worry less and bike more. All you need to do is pedal. It'll shift up as you accelerate from a standstill, and shift down when you reach a stoplight. Set your desired pedalling cadence on the integrated Bosch Intuvia controller and let Enviolo do the rest.
Product specifications:
Next-generation Bosch® Performance Line motor with Intuvia display
500 Wh battery for a range of up to 118 km (74 mi)
Integrated automatic shifting
Enviolo Sport 380 hub
Custom Suntour suspension fork
Cane Creek® Thudbuster ST suspension seatpost
Magura® MT4 hydraulic disc brakes
Gates Carbon Drive® CDX belt
Abus® keyed-alike frame lock
Fits riders from 150 to 195 cm (4'11" – 6'5")
Fits one Thule® Yepp Maxi, Yepp Nexxt Maxi, or Bobike® GO Maxi child seat—no adapters needed
Detailed product specifications are available on the Tern website.